| | |
| --- | --- |
| Title | Harry Potter and the Philosopher's Stone |
| Author | J. K. Rowling |
| Cover Art | |
| Publisher | |
| First Printing | |

| | |
| --- | --- |
| Title | Harry Potter and the Chamber of Secrets |
| Author | J. K. Rowling |
| Cover Art | |
| Publisher | |
| First Printing | |

| | |
| --- | --- |
| Title | Harry Potter and the Prisoner of Azkaban |
| Author | J. K. Rowling |
| Cover Art | |
| Publisher | |
| First Printing | |

| | |
| --- | --- |
| Title | Harry Potter and the Goblet of Fire |
| Author | J. K. Rowling |
| Cover Art | |
| Publisher | |
| First Printing | |

| | |
| --- | --- |
| Title | Harry Potter and the Order of the Pheonix |
| Author | J. K. Rowling |
| Cover Art | |
| Publisher | |
| First Printing | |

| | |
| --- | --- |
| Title | Harry Potter and the Half-Blood Prince |
| Author | J. K. Rowling |
| Cover Art | |
| Publisher | |
| First Printing | |

| | |
| --- | --- |
| Title | Harry Potter and the Deathly Halows |
| Author | J. K. Rowling |
| Cover Art | |
| Publisher | |
| First Printing | |

| | |
| --- | --- |
| Title | Harry Potter and the Cursed Child |
| Author | J. K. Rowling |
| Cover Art | Harry Potter Theatrical Productions Limited |
| Publisher | Scholastic - 2016 |
| First Printing | Scholastic - 2016 |

| | |
| --- | --- |
| Title | Harry Potter: The Prequel |
| Author | J. K. Rowling |
| Cover Art | |
| Publisher | |
| First Printing | |

| | |
| --- | --- |
| Title | The Tales of Beedle the Bard |
| Author | J. K. Rowling |
| Cover Art | |
| Publisher | |
| First Printing | |

| | |
| --- | --- |
| Title | Fantastic Beasts and Where to Find Them |
| Author | J. K. Rowling |
| Cover Art | |
| Publisher | |
| First Printing | |

| | |
| --- | --- |
| Title | Quidditch Through the Ages |
| Author | J. K. Rowling |
| Cover Art | |
| Publisher | |
| First Printing | |

| | |
| --- | --- |
| Title | The Hogwarts Library |
| Author | J. K. Rowling |
| Cover Art | |
| Publisher | |
| First Printing | |

| | |
| --- | --- |
| Title | Short Stories from Hogwarts of Heroism, Hardship and Dangerous Hobbies |
| Author | J. K. Rowling |
| Cover Art | |
| Publisher | |
| First Printing | |

| | |
| --- | --- |
| Title | Short Stories from Hogwarts of Power, Politics and Pesky Poltergeists |
| Author | J. K. Rowling |
| Cover Art | |
| Publisher | |
| First Printing | |

| | |
| --- | --- |
| Title | Hogwarts: An Incomplete and Unreliable Guide |
| Author | J. K. Rowling |
| Cover Art | |
| Publisher | |
| First Printing | |

| | |
| --- | --- |
| Category | Fantasy |
| Warnings | None |
| Main Characters | Harry Potter, Hermione Granger, Ron Weasley, Voldermort, and a host of others |
| Main Elements | Wizards, Witches, Magic |
| Website | |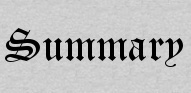 Harry Potter and the Cursed Child


As I had read the Harry Potter series before starting this site, I wanted to re-read them before putting up a review, just to be sure they were fresh in my mind (not that I don't recall them quite clearly, which implies I enjoyed them and found the memorable). But just the same, for now will post just the review of Harry Potter and the Cursed Child since I read it shortly after it was published in 2016.
I enjoyed it. The premise that Albus and Scorpius would be friends was something I predicted, and of course the burden of living under the reputation of their fathers, even though they themselves were not their fathers, that they had their own personalities, but the rest of the world refused to see them as anything except mini-Harry and mini-Draco.
The plot was a little silly, but time travel allows for some interesting introspection, and also an understanding that sometimes a few bad things MUST happen for something good to come of it, that "mistakes" are something a key piece of what follows. And part of the fun is the fact that the original characters are still there, as adults, as married couples, and their interactions with each other, their jobs, and their kids was fun. But also we get to hear a bit from Draco's point of view, frankly I always viewed him as victim of his father's aspiration rather than a villain in his own right and that came across here.
And it's not all doom and gloom, there are some funny moments, especially one scene involving polyjuice...
The play format unfortunately made most of the dialog sound...well, most of the time Scorpius had the vocabulary of a 5-year-old though he was supposed to be one of the smartest students. Probably comes off differently on stage when the emotion and action is added to it. And talking of action, there is a lot of magic in this book, I have no idea how they could even put some of this on stage, if it ever comes around here I'm definitely seeing it!
The other unfortunately thing is that they blew through three years of school in a handful of pages. I really, really, really missed having more details about what it was like in the school, to see them in class, to see what goes on inside of Slytherin, how Scorpius and Albus deal with the other students on a daily basis, not just be told that Albus was miserable. I just felt like I was missing so much of the story. Not only would a novel form for this exact story have allowed for more words on a page and more background, but I would have been happy with a few books.
But seems we'll just have to live with just a brief glimpse into one moment in the lives of "Harry Potter" 2.0

Review by Siagothic:
Who hasn't heard of the Harry Potter series? This series is great. But as it goes on it takes on a depressing side. So many characters are killed off as it goes on, fans don't know what to do.
Written from the point of view of Harry Potter, you see how being a teenage wizard isn't all its cut out to be. As even though he wins many a time, Voldemort just keep coming back. Throw that together with hormones, school dances, pretty girls, school enemys, know-it-alls, peer pressure, and several red heads, you've got a real page turner.
Throughout the series everthing fits together well and it all out a great series. It's obvious the effort that must have gone in to this series. Every character has a signifigant role that connects them to the books in an esential way.
This series is magical but at the same time makes readers realize, no matter how magic a place may be, nowhere is perfect, as characters struggle past losses and tragedys, it's hard not to see how they're incredibly realistic in their roles. All in all these books are incredible.
Though in my opinion the last few books are so depressing, I wouldn't read them more than once.