| | |
| --- | --- |
| Title | Waking |
| Author | Emily Thompson |
| Cover Art | --- |
| Publisher | CreateSpace - 2013 |
| First Printing | CreateSpace - 2013 |

| | |
| --- | --- |
| Title | Trick |
| Author | Emily Thompson |
| Cover Art | --- |
| Publisher | CreateSpace - 2013 |
| First Printing | CreateSpace - 2013 |

| | |
| --- | --- |
| Title | Dreamer |
| Author | Emily Thompson |
| Cover Art | --- |
| Publisher | --- |
| First Printing | --- |

| | |
| --- | --- |
| Category | Steampunk |
| Warnings | None |
| Main Characters | Twist, Jonas, Myra |
| Main Elements | Steampunk |
| Website | clockworktwist.com |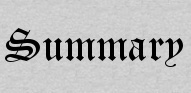 Waking

Trick


I immediately fell in love with Twist. He's such a sweet, quirky character who was dragged out of his comfortable home in London into an worldwide adventure on airship, in a submarine, through jungles and caves. And quite the cast of characters, you have vampires, djinns, kitsunes and of course it wouldn't be steampunk without a clockwork damsel in distress!
In fact I would be hardpressed to find something I didn't like about this story. It was a pleasure to read, and while I couldn't envision the faces of the various characters (something I can rarely do at the best of times) the author was able to create a very vivid world in my head. A little bit of steam, a little bit of magic, Victorian dress and swashbuckling pirates (with jetpacks no less). And the villains weren't two-dimensional evil privateers whose only purpose was to provide conflict for the main character, they had their own back stories, quirks and they kind of grew on you as much as the protagonists did. I'm hoping we'll be seeing them again in subsequent books.
It was magical and wonderful, it was fun and uplifting. It was hard to believe that such a short book could have so many elements that I enjoyed crammed together but somehow still working like well tuned clockwork.
I absolutely adored the second book in the series too. Twist is so cute and sweet and clueless, and Jonas so gruff on the outside but so caring on the inside. In this one they they have to fight to keep Myra safe from a group of people that collect odities, on the surface to "keep the world" safe but in what way Myra could hurt anyone is questionable. I found a few bits of the premise to be a bit hard to accept, but you could throw Twist and Jonas into any plot and I would love it as long as they were together. Hope they figure out they were meant for each other! There's nothing explicit, they are just friends, but they could be so much more if they realized it. And a great pleasure to read, just like the first. It made me look forward to going to work so I could open up my eReader during the commute to spend some time in this wonderful world.
Now though the first two books were free, I'll have to pay to get my hands on the third...but I'm completely willing to pay for the priviledge of spending more time with Twist, Jonas and Myra. Now to decide if it should be in electronic or physical form...