| | |
| --- | --- |
| Title | Old Possum's Book of Practical Cats |
| Series | --- |
| Author | T.S. Eliot |
| Illustrated By | Nicolas Bentley |
| Publisher | Faber and Faber - 1987 |
| First Printing | --- |
| Category | Poetry |
| Warnings | None |
| Main Characters | Rum Tum Tugger, Mr. Mistoffelees, Macavity, Gus, Mungojerrie, Rumpleteaser, Old Deuteronomy and more... |
| Main Elements | Anthropomorphic |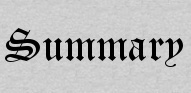 Nicolas Bentley's rumbustious colour pictures are the perfect complement to these lovable cat poems, written by T.S. Eliot for his godchildren and friends in the thirties.
The Naming of Cats
The Old Gumbie Cat
Growltiger's Last Stand
The Rum Tum Tugger
The Song of the Jellicles
Mungojerrie and Rumpleteazer
Old Deuteronomy
The Pekes and the Pollicles
Mr. Mistoffeless
Macavity: The Mystery Cat
Gus: The Theater Cat
Bustopher Jones: the Cat About Town
Skimbleshanks: the Railway Cat
The Ad-dressing of Cats
Cat Morgan Introduces Himself


What can I say, these are classics. I grew up with Cats, it was one of the first musicals my parents ever brought me to, and I've seen it a few time since, whenever the show comes around to my hometown. I even own the VHS, the LP record and memorized all the songs.
I got this book back in 1987 as a Christmas gift from my parents. Now I'll be honest, I'm not a huge fan of the artwork by Nicolas Bentley, the cats are kind of weird looking. I've heard that Edward Gorey (artist who did the intro for Mystery on PBS) did a version too, wish I had that one.
But its not about the art, can always pick up a different edition, it's about the poems themselves. And they are a lot of fun. Like I said, I had memorized the musical so it was hard not to read the poems as if the musical were playing in the background.
Eliot does a good job of getting the different cat personalities, the unpleasant Macavity, the mysterious Mr. Mistoffelees, Old Deuteronomy lying out in the sun, and of course in all cases:
For he will do
As he do do
And there's no doing anything about it!
Which as anyone knows, defines a cat.